On the day after Christmas in 2018, I took my family shopping for post-Christmas clearance bargains at Gurnee Mills, a very popular mall in Gurnee, Illinois, USA.
Well, at least it used to be popular. It had been several years since we had done this, and we fully expected there to be a big crowd, as there had been in past years.
When we arrived, the parking lot was barely half full. By that time of morning three or four years earlier, it would have been at least 75% full.
Walking around the gigantic, 1.9 million square foot, 1 mile long, z-shaped mall (the third largest in Illinois), you wouldn't have realized that the mall (still?) draws 20 million visitors per year. There were precious few, if any, of the thousands of annual bus groups that the mall has been known for.
I've seen this same thing at the local mall closer to where we live in Florida. The mall parking lot is nearly always empty, except during popular movie times and when popular movies are showing. But the rest of the mall is 50% empty with very little foot traffic year-round. Other malls closer to popular amusement attractions in the area are still doing well, but not as well as they were 10 or 20 years ago when they were first built.
Big Malls Are Struggling
Now, I used to do some website design and consulting for Simon Property Group, which owns Gurnee Mills, back in the day when its Minnesota-based "Mall of America" landmark was fairly new. Malls then were enjoying a heyday of sorts with all that new dot com boom disposable income flowing through its cash registers. And the website agency I worked for had been hired to create a new website for Simon to represent all its properties on a single web interface.
But what I was looking at this day, and what I've been observing for the past four years, was a pretty grim outcome for what we once thought would be a solid business model, even in light of the then-upstart Amazon.com and eBay.com eCommerce sites.
It used to be, on this very important shopping day for bargain hunters and gift returners, that you'd arrive early only to still fight crowds for clearance deals. The thoroughfares were positively packed with people and the stores were no different. It was either frustrating or exhilarating depending on the type of shopper you were and how many kids you had in tow. Before Christmas and even into the New Year was pretty much the same. Wall-to-wall shoppers and a vibrant sales environment.
Today, in late 2018, you could have held a back-and forth marathon along its mile stretch. Kiosk hustlers approached us from all sides, angling for our interest in everything from windup toys to cosmetics to whole-home solar panels. I had a good laugh at the concept of solar panels in Illinois when we, still, in 2018, couldn't make a good financial pay-off case for them even in Florida. And to buy them at a mall kiosk was doubly funny.
One guy tried to sell me a vacation package to a time share resort in Orlando, Florida, where I live. I was mildly interested given that I'd been considering a staycation at one of the non-Disney resorts (our Disney Vacation Club points having already been rented out for the upcoming year). But when he told me the resort in question was on International Drive, which I have a love-hate relationship with, I moved along.
At one quite large shoe store, we waited for a while at the counter for the one sales person on duty (literally, she was the only staff member present in the store) to check out our purchases. As there was no bell, I actually had to whistle across the store to get her attention to the growing line of shoppers. It wasn't her fault, and I wasn't trying to be rude, but there was no way of knowing who was on duty. She had been so busy bent over restocking shelves that she hadn't noticed us.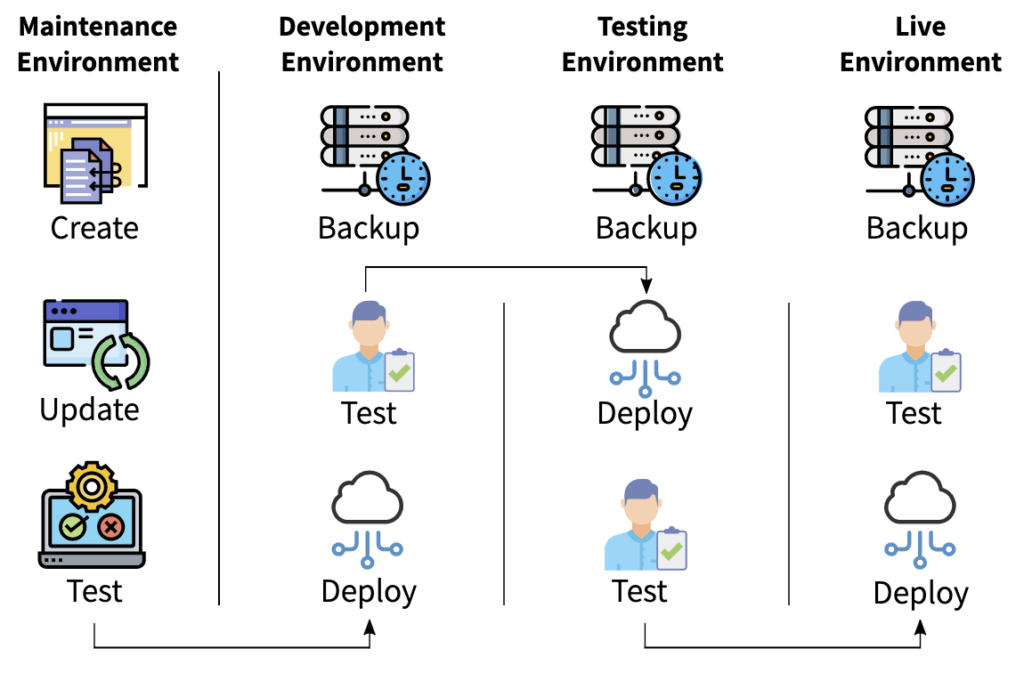 Gone are the days of clicking "Update" and hoping for the best. Let Webidextrous manage your maintenance. We'll give you back your time and peace of mind.
But, What About the Socialization?
The socialization factor is an important one. Gathering at the mall was often a pre-Internet recommendation engine. When I was a teen, the place to see and be seen was the mall. Our nearest one happened to be 80 miles away, but we made a regular pilgrimage there just to browse posters, cassettes (and then CDs), and shop for clothing we thought would make us more popular and likeable. We'd consult with each other about this or that music/clothing/gadget, etc. And, if any money was left over, we'd all sit in the food court and spend a couple hours eating and chatting before we went to a movie and then made the 80 mile drive home again.
Say goodbye to the halcyon mall days of the 80s and 90s. Today, we just saw people avoiding eye contact and looking at their phones. Probably shopping for better deals online or asking a parent, sibling, friend or significant other where they were so they could head home because there's nothing going on here.
What Has Happened to Traditional Retail?
The once-hopeful catchphrase "clicks-and-bricks" is increasingly becoming just "clicks". While our one-day, 3-hour experience in only a handful of stores in a single mall is a data point, not a trend, it's true that eCommerce purchases are on a steady growth rate trend of 17% per year. It's still kind of a draw, with $4 trillion of web store carts being abandoned. But too many shoppers visit stores to look at or try on merchandise only to go home and buy it for less online. Others look online only to go to the physical store for the actual purchase. I know I've done both.
In fact, my wife did that very thing today. She was looking for a specific book in an outlet bookstore. She found it, but then she looked on Amazon.com and found it for half that price. I remarked, "Well, Amazon doesn't have to pay three sales clerks and rent an overpriced but small mall space." All we had to do was order the book online and the Amazon fulfillment center located only 15 miles from us would deliver it to our front door that very day.
Returns happen both directions now as well. Some buy online and return at the store, and others buy in the store and return online. At Kohl's, a very JC Penney-like department store found all over the Midwest, we even saw an Amazon Returns kiosk right by the front entrance. I found that interesting as Amazon is, in almost all other respects, a direct competitor of Kohl's. I guess if you can't beat 'em, join 'em?
When we returned home, I was discussing it with my mother-in-law, who pointed out that many people prefer to return things to the store in person. Well, yes, but that's not a measure of a healthy bricks and mortar selling model. You don't want the returns, you want the sales. Plus, my experiences with Amazon in returning just about anything for any reason for a full refund have been pretty painless. The only time I had to go anywhere was when I had just missed the UPS driver stopping by to pick up the package. But even then, going to the UPS Store was no big deal and my introvert self didn't have any 'splaining to do to a nosy customer service rep. The UPS rep didn't know or care what was in the box. There was no haggling over cash or store credit, and I didn't get any upsell credit card offers, either.
So, that interesting (to me) observation is what drove me to my computer this evening. I just found it really remarkable and somewhat unexpected that this mall, which has always had a reputation for "packing them in" after Christmas, was nearly a ghost town by comparison with my past experiences there.
How to Begin Focusing on eCommerce
These anecdotal and data-based trends seal the deal, in my mind. You and anyone else you know who owns any kind of retail, wholesale, or outlet concern would do well to consider a stronger presence online than in a brick and mortar space. With retail space rentals and hassles, premise-based taxes, and other problems that are part and parcel with having a physical space, eCommerce is looking better and better.
eCommerce websites are easier to build with popular systems like Shopify and WooCommerce.
Shipping and returns can be simplified even for basic stores by hiring a shipping and fulfillment company, or by using Fulfillment by Amazon.
Payment gateways, such as Authorize.net, while still a bit difficult to set up and use without some research, are catching up to the demand for easy and versatile payment capture.
Taxes can be made easier with certain plugins and services that manage state taxes and provide reports for your accountant.
Advertising on Facebook and other online ad outlets can help get clicks to your product pages and sales in your pockets.
Getting exposure on your own and others' social media channels and via word of mouth can replace deal flyers on cars in parking lots.
eCommerce is not a trivial thing, though. Expect a steep learning curve during the first year or so as you learn the ropes and discover the ins and outs of how fulfillment and payment capture work, customizing business rules through custom code, how to do online returns, and how to operate your eCommerce software. With help, though, the process can be accelerated and simplified.
Go ahead, take the leap. Let me know in the comments what you are observing in the physical and online retail worlds.
The following two tabs change content below.
Rob Watson is the CEO of Webidextrous, a web consultant, and a developer. Beginning in 1996 as a self-taught web designer, he has created websites for everyone from small business owners to multi-national companies. He is the co-organizer of the West Orlando WordPress Meetup and a WordCamp speaker.
Latest posts by Rob Watson (see all)