Online Business Coaching
Website coaching for individuals, entrepreneurs, and enterprises
---
Why choose Webidextrous for online business coaching? Because we have over two decades of experience helping business owners succeed on the web. Our online business coaching will supercharge your web marketing and eCommerce strategies to achieve your digital vision.
Learn More
Download the eBook "The Care and Feeding of Your Web Designer"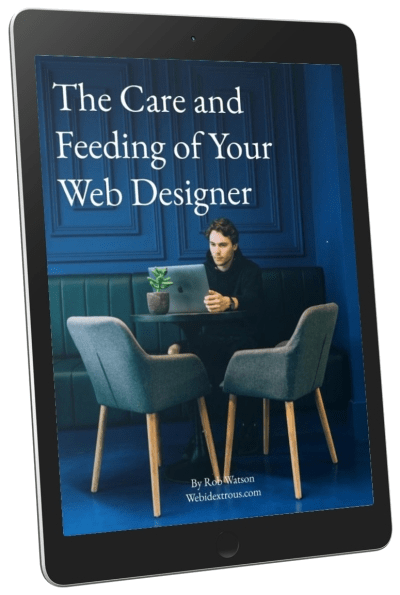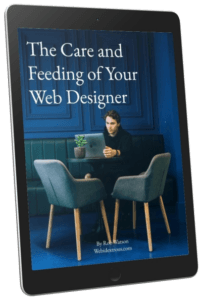 Have you been frustrated with your progress on a website project and don't know what to do next? Did you know you're not alone and that the vast majority of website projects fail (and fail spectacularly)?
Avoid your project becoming another statistic. Load up your brain with a quarter century of hard-won experience in the web design industry. Learn all the tips and recommendations on how to communicate, collaborate, and partner with your web team.
You don't have to do this alone.
Webidextrous is an information platform for educating business owners on the topics of website ownership and maintenance, branding, and digital marketing.
What does Webidextrous do?
What kind of content does Webidextrous publish?
Visit the Content page for helpful content in multiple categories of website design, development, management, marketing, social media, eCommerce, and many other digital business topics. More content such as podcasts and videos will be introduced in the future.
What is online business coaching?
Webidextrous coaches business owners and staff who struggle to integrate websites, digital marketing, social media, and eCommerce into an efficient and coherent system. Visit the Coaching page for more information and to sign up for a FREE pre-coaching session.
What kinds of connections does Webidextrous have?
On the Connections page, Webidextrous matches you with professionals in our network of handpicked agency, software, and content affiliates. They are ready to educate you and partner with you when it comes time to implement your plan.
What does the word "Webidextrous" mean?
Webidextrous is a word we created to describe our love for and proficiency with both sides of every web presence: the technological and the creative. Being "webidextrous" is the digital equivalent of being ambidextrous: using both sides of the brain to innovate and improve.