Let's talk about your local business listing. If you have a local business, the ultimate goal of your online presence is enticing potential customers to come to your business. The goal is to convert them from online browsers to paying customers.
Posting the correct information about your business online is a vital part of this process. Nothing is more frustrating to a customer than not being able to find a business because you've posted the wrong information.
And now, with COVID-19 issues complicating buying food, hair, beauty, and fitness, and even planning a wedding, it's super important that people know you're still open, what your new hours are, and how you're still serving people in a socially-distanced and safe manner.
Poor listing information can leave a bad impression on your potential customers. Worse, it can lead them to do business with someone else. According to BrightLocal, 80% of consumers stated they lose trust when a brand presents incorrect information on their online listing. And 68% of customers would stop using that local business!
1. Not telling people when you're open will cost you
There are common things that people are looking for in a business listing. And it doesn't matter if they are looking from a PC or a mobile device. The most common thing is the hours of operation since they are usually looking for a business they frequently go to.
BrightLocal also found that incorrect operating hours damage the business trust of 51% of customers. Study participants reported that they expect this information when searching and that it helps them select a business.
When you don't list business hours a local business listing it gives new customers a bad first impression. Especially if the business operates during irregular hours. Put yourself in your customer's shoes. Imagine that you show up ready to spend money at a business on a Monday at 4 pm. When you arrive, you find out that the business is closed. You are likely to do another search and find another store that is open.
2. Don't forget the "A" in NAP data
NAP stands for "Name, Address, Phone". Contrary to what most people assume, a business' address is actually the second most desired information after business hours.
An accurate address is still very important and gets customers to your business to spend money. If you post an incorrect address on sites like Google or Bing, you're losing customers and leaving money on the table.
Even a simple mistake, like being one number off or listing the wrong town could mean a customer won't find their way to you. Many search engines will default to USPS for correct mailing addresses since they rely on a complex system of checks to verify and standardize addresses.
A new business owner should make sure that the address on their listing matches both the address from "City Hall" and USPS. You need to make sure USPS recognizes your address and that you always update the information in their online database.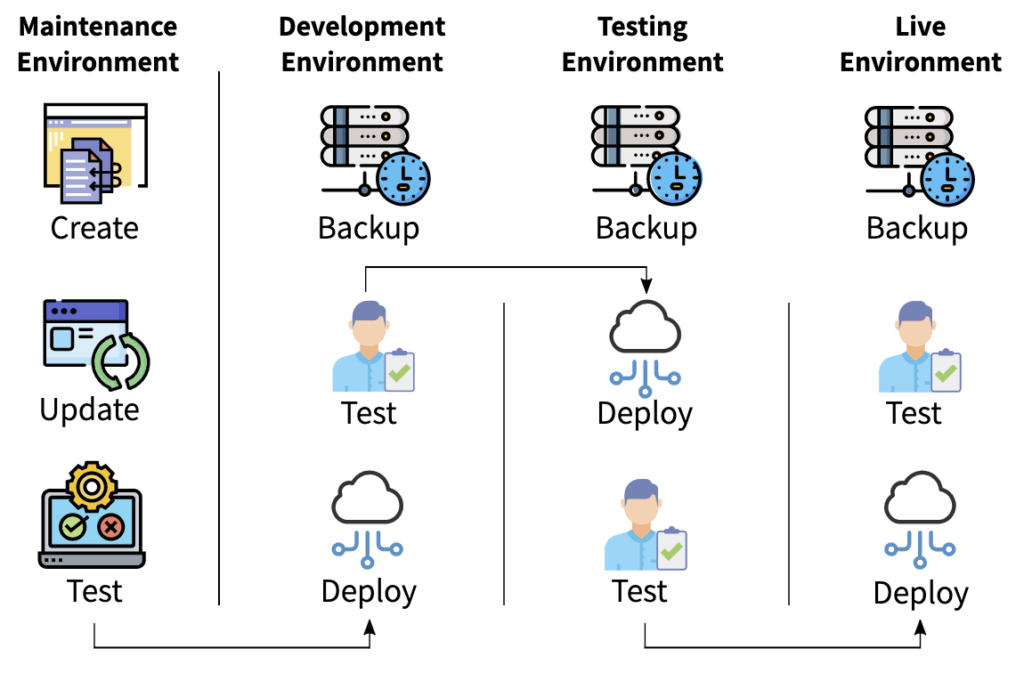 Gone are the days of clicking "Update" and hoping for the best. Let Webidextrous manage your maintenance. We'll give you back your time and peace of mind.
3. Local searchers are mobile creatures
According to HubSpot, 78% of location-based searches driven by mobile phones end in a purchase. That is why it's super important to make sure your listing details are accurate.
If people searching for a business listing can't your listing details, you are going to lose 100% of those peoples' business. These details should be readily available and in a mobile-friendly manner. So, be sure to create a responsive website and optimize it for both cell phones and tablets.
4. Accuracy on your website still serves as a first impression
Publishing an accurate listing on Internet "Yellow Page"-type directories, local sites, and website portals greatly improves your chances of closing a sale.
Mobile searches are becoming the most popular way people search for businesses. However, businesses should not ignore the power of a consistent and accurate listing that reflects their business website. You should link your business' websites to all of your local business listings. Be sure to feature the exact same information, and in more detail.
While you should build a website to convert, if you have inconsistencies in your local business listing, your customers will lose trust in your business.
5. Local searchers and the way they search local business listings
Nowadays, there are so many ways people search for listings. As technology has evolved, so have our methods of searching. Web developers have become smarter and have realized that instead of designing three different sites for three different platforms, they should create websites scalable to each search device.
In 2019, 96% of Americans in age ranges that tend to spend more owned smartphones. Nearly half now own tablets and e-readers, and 75% of them own desktop or laptop computers. It stands to reason that those same adults use smartphones, tablets, desktops, and laptops to search for local business listing information online.
What people are searching for depends on the time of day and what device they use. People are searching for entertainment on computers during work hours. People search for restaurants during the evening on cell phones, and for health/fitness in the evening through tablets.
We can't stress enough that accuracy is the most important part of mobile searches. If your business can't be found in a local search while potential customers are out and about, you've lost them to another business. Having these listings correct in all device formats is critical as people continue to evolve in the way they interact with local businesses.
6. Customers trust local business listings as good sources of information
Consumers consider local search results to be the most reliable. According to a study by George Washington University School of Business and Smart Growth America, local businesses in "walkable urban places" grew in 21 of the top 30 metro areas.
A lot of people would rather find a local store to find what they need at the moment than wait a week for delivery. Local searches allow people to experience instant gratification. It also gives the salesperson a chance to interact with their customers, sell them more than just the minimum they may have spent online, and turn them into a loyal customer.
Conclusion
Positive interactions with good quality businesses are what motivate people to perform a local search in the first place, which further illustrates why you need to get your listings correct. You can't build customer loyalty if you don't gain your customer's trust first. Loyal customers lead to more sales. Getting your listings right benefits both your customers and your business.
The following two tabs change content below.
Rob Watson is the CEO of Webidextrous, a web consultant, and a developer. Beginning in 1996 as a self-taught web designer, he has created websites for everyone from small business owners to multi-national companies. He is the co-organizer of the West Orlando WordPress Meetup and a WordCamp speaker.
Latest posts by Rob Watson (see all)