As a business, page two on the SERP (search engine results page) is not the ideal place to be. Most people don't look past the first page. Think of the last time you searched for a pizza joint. You most likely performed a Google search on your phone. Google then presented three local options along with 10 other organic results. From there, you most likely made a call to order your pizza or drove to the pizza joint. If you were the local pizza business, it would benefit you to be on the first page for those target keywords. How do you get on the first page, you ask?
The first step is to perform a local SEO audit. Here's how:
Step 1: Audit Keywords
Figure out what keywords you are targeting. Determine what you're currently ranking for and identify what your opportunities are. For example, if you're ranking well for "Orlando Personal Injury Lawyer" but are nowhere to be found for "Orlando Injury Attorney", you've identified an area to improve.
Start by making a list of which products, services, or pages you'd like to drive traffic to. Once you've created your list, you can use tools like Keyword Finder to quickly put together a list of high volume local target keywords. Use the list to finish the rest of your local SEO audit and see how well these keywords are optimized at each step of the way.
Useful Local SEO Tools:
Step 2: Audit Your Competition's Local SEO
As part of your local SEO audit, you should look into your competitor's SEO status and tactics early on. If your location is highly competitive with other top businesses doing everything right, you need to be aware of it. You don't have to know everything about each of your competitors, but it will be helpful to compare the following data against yours:
Number of links
Site Speed
Social Stats
GMB ranking for top keywords
Organic rankings for top keywords
Review quantity and quality
Most of the time, looking through these items will help you determine why your competitor is successful in local SERPs. You can also use BuiltWith, which is a helpful local SEO Tool.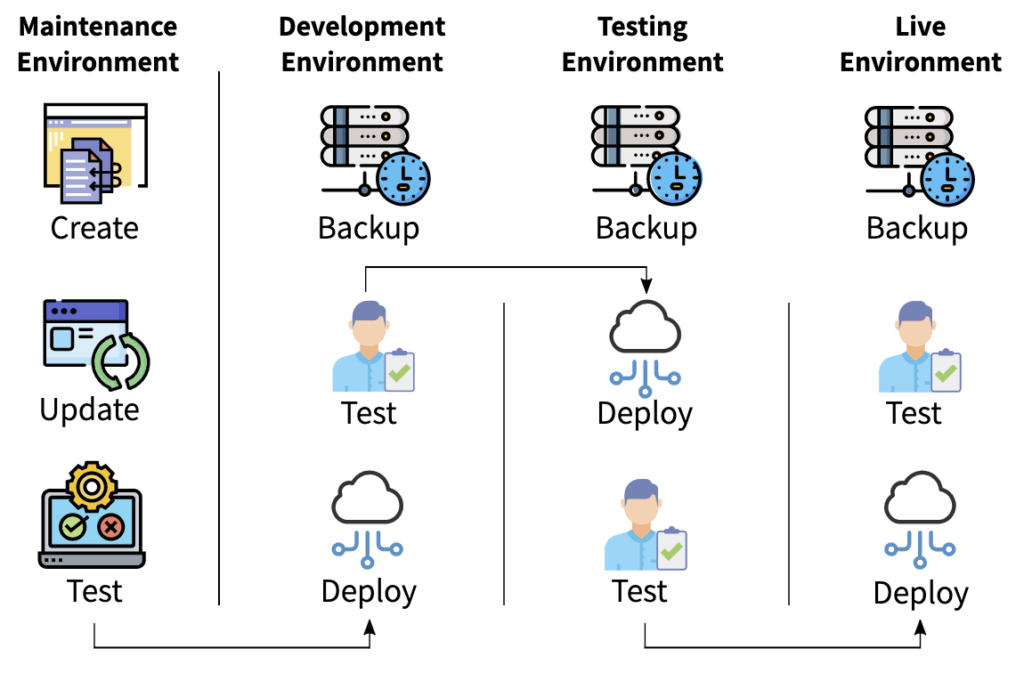 Gone are the days of clicking "Update" and hoping for the best. Let Webidextrous manage your maintenance. We'll give you back your time and peace of mind.
Step 3: Audit Google My Business Listing
Google My Business (GMB) has been ranked as the biggest driver of local SEO success since the 2017 edition of Moz Local Search Ranking Factors Survey. To appear in Google's "snack pack"—the top three map business listing box that appears in some results of organic Google searches—your GMB listing should be well-optimized with your core target keywords.
Here's what you should look for:
Do you have a GMB listing? Is it claimed and verified?
Do you have multiple reviews and a high overall rating? Are you responding to reviews?
Is all business information present and accurate?
Do you have appropriate business categories listed?
Do you have images of the business?
Have you created any GMB posts?
Are you participating in the Questions & Answers section?
These are the key elements that make up a solid GMB listing.
Helpful Local SEO Tools:
Step 4: Audit Reviews for Quality and Quantity
Reviews can have a great impact on both building your reputation and your local ranking. Search engines use them as an authentic measure of a local business's credibility and popularity. Potential customers trust reviews to help them determine the quality of a business. Receiving a lot of positive and detailed reviews across various review platforms like GMB, Yelp, Facebook, Tripadvisor, Houzz, and Healthgrades helps you succeed on many levels. According to Local SEO Guide, Google picks up on keywords people use in their reviews: "At a high level, having a keyword you are trying to rank for, and a mention of a city you are working to rank in, in reviews has a high correlation with high ranking Google My Business results."
Helpful Local SEO Tools:
Step 5: Audit Links for Quality and Quantity
Links are still a very important part of Google's ranking algorithm.
LocalSEOGuide.com states "Make sure your owned assets, like your website, are killing it. Lots of factors like links, organic ranking etc show very high correlation with positive local pack performance. Invest there."
A local business' link portfolio should contain a diverse collection of quality links. This means you should evaluate your links, and make sure they have:
High domain authority
Local content
Industry or vertical topic clusters
Link quality always beats quantity, and both quality and quantity will help you prevail in the search rankings in your market. In contrast, if you see a large amount of spammy, off-topic links, you'll want to note this as a red flag that will prevent you from ranking well for your target keywords.
Helpful Local SEO Tools:
Step 6: Audit Schema-Markup for Local
Schema markup is code placed on a website to help search engines return informative results for searchers. Schema tells search engines not only what your data says, but what it means. This is a key way to inform search engines exactly what a website is about, which will help display it on the SERPs under the correct search queries.
One way to make sure your site is using schema markup is to enter your URL into Google's Structured Data Testing Tool. You'll be able to check that all the correct information about your business has been included.
For a WordPress website, All In One Schema Rich Snippets is a great plugin to add Schema markup. So is Rank Math, with support for 14 different Rich Snippets. For other websites, this is a great tool to add Schema.
Helpful Local SEO Tools:
Step 7: Audit Local SEO Citations
How often is your business mentioned online? Audit your citations to help determine how many online mentions the name, address, and phone number for your business has received. It's critical to look into both your structured and unstructured citations. For structured citations, you'll audit your business listings online by looking at social platforms and directories like Yellowpages, Facebook, Yelp, and Superpages. You should also check to see if the correct business information is listed on the main data aggregators: Factual, Neustar/Localeze, Axiom, and Infogroup. Next, check your unstructured citations. You'll find unstructured citations on random websites, job posting sites, blogs, event listings, social media mentions, and government records. These are considered unstructured because they could be as simple as a company mention. These citations don't usually include a business' NAP data.
Whitespark's Local Citation Finder is a great tool to find and analyze both your structured and unstructured citations and it's free! Another helpful local SEO tool is Moz Check Listings.
Step 8: Audit SEO on Main Pages
The most important piece of your entire audit is probably an audit of your main website pages. With the proper tools, it doesn't have to be time-consuming. Screaming Frog is an excellent tool that gives you a comprehensive look at your on-page SEO. With your list of target keywords ready to reference, you'll want to go through each page on your spreadsheet and look at the keywords of each page. You should observe the following:
Page title
Title tags
Sub-headings
Word count
Meta description
With this information alone, you'll be well-equipped to analyze how well your pages are optimized for local SEO. In addition, you'll be able to determine ways you can improve and spot opportunities where content gaps exist.
Once you've evaluated how well your local SEO is optimized, you can put to use some top-tier SEO plugins.
Helpful Local SEO Tools:
Step 9: Audit Image SEO
Keyword usage and how it affects page load speed are two key components to image optimization for local SEO. Screaming Frog's free SEO tool can be used to evaluate both. To audit image keyword optimization, you should evaluate each image's filename and alt text. Site crawlers rely on the file name and alt text to determine what's being shown since Google can't yet tell what visual content an image displays. You can use these places to optimize with relevant target keywords. You should make sure your images are optimized by resizing small enough without compromising the image quality. This makes sure that the page load speed is quick. Screaming Frog takes an inventory of all the images on your site and lets you know which images are slowing things down. (You can also use size optimization plugins that resize images automatically.)
Step 10: Check Website Speed
It's imperative in today's online business world to have a page that loads rapidly.
Edwin Toonen of Yoast notes that "Google's latest research shows that the chance of a bounce increases 32% when the page load time goes from 1s to 3s. 1s to 5s increases the chance to 90% and if your site takes up to 10s to load, the chance of a bounce increases to 123%. That's incredible. For search engines, better results and performance are a sign of a healthy site that pleases customers and therefore should be rewarded with a higher ranking."
Use Google PageSpeed Insights Tool to perform a near-instant audit of any URL for mobile and desktop searches. This is a quick way to tell you if improvements are needed and what actions you can take to improve your website's speed.
However, it's really easy to get so caught up in page speed that you lose sight of the bigger picture. Chasing the page load numbers can become an obsession to the exclusion of more important things like content and linking. See Why you Shouldn't Care About Google PageSpeed Insights for a good dose of balance on this topic.
Helpful Local SEO Tools:
Step 11: Audit Site Engagement
How visitors interact with your site affects your rankings.
David Mihm argued in 2017 that, in 2020, "Engagement [will be] simply a much more accurate signal of the quality of local businesses than the traditional ranking factors of links, directory citations, and even reviews." His prediction was correct.
Other ranking factors are metrics like organic search click-through rate (CTR), bounce rate, dwell time, and conversion rate. You can use Google Analytics to evaluate your engagement metrics and compare them to industry benchmarks.
Helpful Local SEO Tools:
Step 12: Audit Social Engagement
When it comes to social signals, we're not sure how much they affect Google's ranking algorithm. However, we do know that a strong social media presence can greatly boost local SEO efforts. Ron Dod of Search Engine Journal states that the bigger and more engaged your audience, the more they'll boost rankings: "The bigger your brand is and the more consumers trust you, the more likely you are to receive a larger share of clicks in Google. Social media can be a great and efficient way to help you build your brand and get in front of people who wouldn't have otherwise found you."
Therefore, it is important to evaluate your social platforms as part of your local SEO audit by analyzing:
Number of Facebook shares and number of people that like your Facebook page
How many Twitter followers you have and tweets that mention your brand name
Number of Linkedin Shares and LinkedIn company followers
Helpful Local SEO Tools:
Of course, the other side of the SEO engagement coin is that you actually need to engage on social media to be able to have activity to audit. Depending on the type of business you have, that can be a daunting task, especially if you have multiple social media channels to publish content to and only so much time to create it.

Here are some helpful social media engagement tools to make that task simpler.
Bulk.ly can help social media marketers schedule posts in advance to multiple platforms
Buffer.com helps you queue up posts and analyze engagement
HootSuite.com is an inbox and a publishing platform to help you engage multiple streams
Final Thoughts
When you perform a comprehensive local SEO audit using these 12 steps outlined, issues are going to come up. However, discovering and fixing any optimization issues along the way is important and so is recording your progress so that you do not miss any crucial pieces to the local SEO puzzle. Using MarketGoo is a great way to get started since it automatically scans a website and provides a step-by-step SEO plan that helps you increase your website's traffic and rankings. When you're ready to start optimizing your website's SEO, Boostability and SEO network offer great packages that help you power up your local presence.

The following two tabs change content below.
Rob Watson is the CEO of Webidextrous, a web consultant, and a developer. Beginning in 1996 as a self-taught web designer, he has created websites for everyone from small business owners to multi-national companies. He is the co-organizer of the West Orlando WordPress Meetup and a WordCamp speaker.
Latest posts by Rob Watson (see all)