In part one, I talked about why web designers charge what they do for seemingly "simple" websites. That notion of "simple" probably comes from the idea that if I can type text and drag and drop images into a Word document, then how hard could building a website be?
Trust me. I've been building websites for over 22 years now. It's not at all like Word, so it's harder to build a website than even Wix or Squarespace make it look. Especially if you need even a modicum of usable, accessible, and mobile responsive interactivity.
I've used nearly every drag-and-drop website builder that's ever been made. They can get you a basic, nice looking website, yes. The truth is, the most sophisticated drag-and-drop website builder will always miss the mark when it comes to customization. And EVERY website will eventually need some level of customization.
Time and Money in Web Design
In this post, I'll talk more about money vs. time trade-offs. And, how you, the website owner, can get more of both.
Even if you've already spent money on a web design that failed.
If you have more money than time, you'll probably be willing to pay a bit more to get the site done correctly and with an investment of time that is as close to zero as possible.
Web designers and programmers are typically in the role of a freelancer or employee and therefore have basically two options of what to do with their money (save or spend). They are also typically locked into a cycle of trading their time…hopefully for money.
Your Website and Return On Investment (ROI)
However, business owners usually have a third option. They can can 1) save, 2) spend, or 3) re-invest money into the business.
When you, as a business owner, are re-investing in your business, especially for the long term, the question typically is not "What does it cost?". It's usually "What is the business going to get out of this? What will the return on investment (ROI) be?"
If the ROI is greater than the cost, then the cost is going to not matter so much. And, ROI doesn't always mean money rolling in. Sometimes it can mean less tangible assets, such as time saved, brand image improvement, satisfied customers, and happier employees.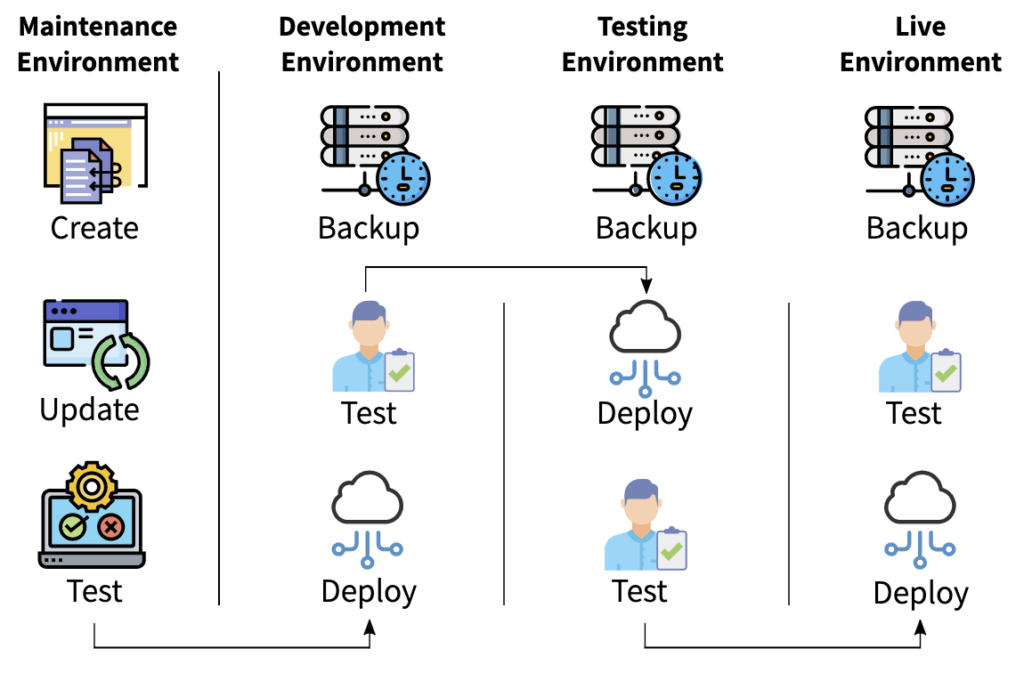 Gone are the days of clicking "Update" and hoping for the best. Let Webidextrous manage your maintenance. We'll give you back your time and peace of mind.
How NOT to Approach A Web Design Project
So, what does this mean? It means that now we are at the value proposition crossroad. One of two things can happen here.
You, the business owner, can look at the estimate from the developer and see it as an expense to be avoided. You could face the struggle head-on and try to do it yourself. You might succeed, but the odds against you are bad if web design isn't your core competency.
Or, you can look at the estimate from the developer as an escape hatch toward greater freedom to focus on what is most pressing…building the business.
What an Unsuccessful Web Design Project Looks Like
Here's a typical scenario: A caterer needs a website. She approaches a designer about the project and says "I need a website, but it needs to be inexpensive. Otherwise, I'll just need to do it myself."
The designer counsels the client to look at the site not as a cost but as an investment. But, the caterer insists that the website shouldn't cost very much because of a friend who did another site for her for free using Wix.com. Seeing the mention of Wix.com as a red flag warning of losing the client, the designer tosses out a low number to ensure that he gets the work so he can put it toward paying his rent this month. His estimate is $1,000. The caterer reluctantly agrees.
So far, we're not off to a great start with this relationship.
The next thing that happens is that the designer dives into the project, trying to build the site quickly, to the caterer's specifications, and staying within the $1,000 budget. But there's not a lot of wiggle room in that $1,000 in terms of the designer's hourly rate and time to really flesh out what the caterer would like. So he is forced to quickly review local competition, deduce what a typical local caterer is going to want on the site, and produces a mock-up.
The caterer looks at it, expresses a bit of trepidation that it's not exactly what she's looking for, but it's close enough and she really needs the site launched soon. She approves the design and pays the 50% deposit.
Now the designer is ready to go. He installs a WordPress theme, turns it into a child theme, installs some helpful plugins to back fill the functionality he would otherwise want to custom build but can't due to budgetary constraints, and starts working on the images and layout. Next, he adds the text content to each page. Finally, he adds a basic contact form, a phone number, and an email address as well as the caterer's office location on a nice zoom-able map.
Notice that the designer didn't have that post-payment wiggle room to spend more time and effort, have more conversations, and fully discover the needs of the business. As a result, both he and the caterer didn't discuss the fact that what she actually needed was a custom and complicated booking and catering estimate form. Instead, he has spent (wasted) the meager amount of development time remaining mostly on some quick-to-finish items like parallax scrolling, an auto-playing header video, and some neat animated effects in CSS to make the site "sizzle".
Well, at least it looks as good as a Wix site, right?
The site is finished. The caterer seems satisfied with the look and feel, pays the final 50%, and the site goes live. A month passes. And then…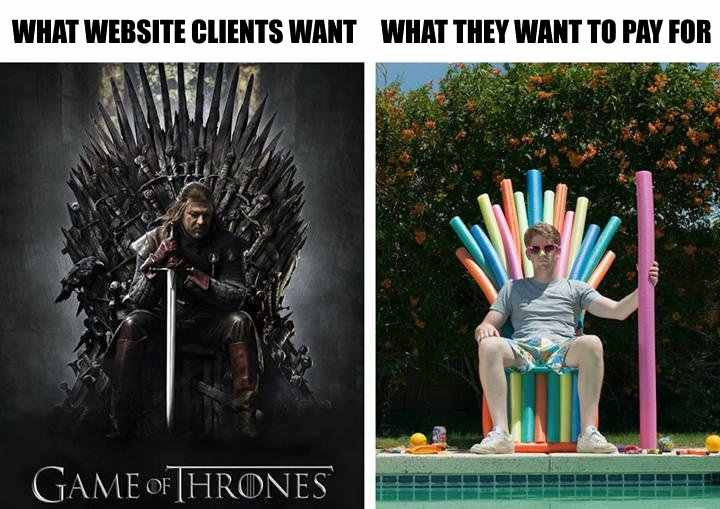 Caterer: "The site looks great and loads fast. But I don't find my site on the first page of local Google search results. People who call me say they got my business name from another client but they don't mention the website at all. Why haven't I haven't gotten any new customers from the website? Can you add an estimate form instead of a regular contact form?"
Designer: (still thinking that the client was primarily concerned about cost) "Ok."
Caterer: "That will bring me a lot more leads, I think."
Designer: (thinking) Yes, the form will help users who know you be able to get an estimate, but for the many more who can't find you, you would need to do a lot more digital marketing and SEO, but since I think you're still unwilling to pay for that, I won't even mention it. (but saying) "Sure."
What ends up happening is that the client paid $1,000 for a site that didn't bring them any leads for the first two months. One thousand dollars wasted. Then she asks for what she actually needed but that neither the designer nor she had enough discussions to initially discover.
And the designer, out of a sense of obligation, and possibly shame for not having delivered enough value initially, consents to building a form he isn't likely to get paid for. Now distracted by a run of new projects coming in, he has to prioritize the paying work over the caterer's new (and "free") estimate form. The new form is launched a week too late. They have a falling out and the caterer gives up.
The next thing that happens is that the caterer, now desperate, turns to another designer for a redesign and gladly pays another $3,000 for the form and additional ROI-based enhancement opportunities the new designer discovers, plus $1,500 per month for a digital marketing and SEO plan, and another $1,000 for site content updates such as blog posts and adding new catering menu items.
Things begin to go so well that she rolls out a new take-out service and pays another $5,000 for an eCommerce online ordering addition. So, including the initial site cost, plus the redesign/site enhancements, that's $9,000, plus monthly recurring investments in content creation and SEO of $18,000 over 12 months. A total of $27,000.
But the net profit off of the regular jobs plus the new take-out feature, plus the corporate events jobs that the caterer gets as a result of all of this investment comes out to $80,000 over that same 12 months.
In part 3 of this series, I'll walk you through what an ideal client/provider website design engagement looks like so you'll be prepared to approach web designers in a way that will make them want to partner with you and give you the most value for your dollar.
The following two tabs change content below.
Rob Watson is the CEO of Webidextrous, a web consultant, and a developer. Beginning in 1996 as a self-taught web designer, he has created websites for everyone from small business owners to multi-national companies. He is the co-organizer of the West Orlando WordPress Meetup and a WordCamp speaker.
Latest posts by Rob Watson (see all)