UPDATE – February 17, 2021: As a follow-up to Chris Lema's February 17, 2017 post about Jetpack plugin performance, Chris has now written an excellent blog post about a new "Jetpack Boost" plugin that aims to speed up your site. Your mileage with Jetpack Boost may still vary. It is also not trivial to remove JetPack, so be sure to test, adjust, and test some more until you get the right balance of features and performance. Now, on with the original post…
---
JetPack is a hog. There. I said it. Many people love Jetpack for its utility and ease of use. But for as popular a plugin as it is, it sure bogs down WordPress with all of its external service requests.
One of Webidextrous' clients was super-focused on site speed and page speed, as well they should be. Most site owners know that Google has ratcheted up its emphasis on page speed in recent years and that it has been downranking sites that are too slow.
A Quick Analysis of Jetpack and WordPress Performance
Want to know what we did? First, to motivate you even further, let's start with the results we got. The graph below shows that Jetpack is indeed a resource hog, adding up to 1.5 seconds of extra page load time.


Nobody wants that, even if it's just momentary. But this was happening on a regular basis, and it was adding up. Over the prior 7 days, Jetpack had "leaked" about 1.5 hours of page load time!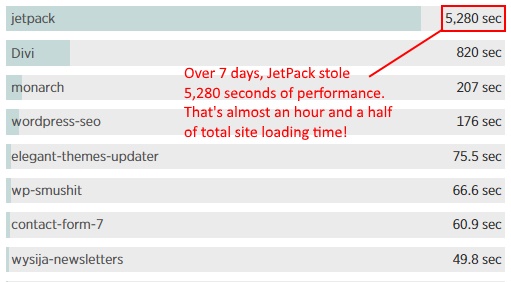 Yes, Jetpack can be convenient. But at this price? No thank you. It's time to remove Jetpack.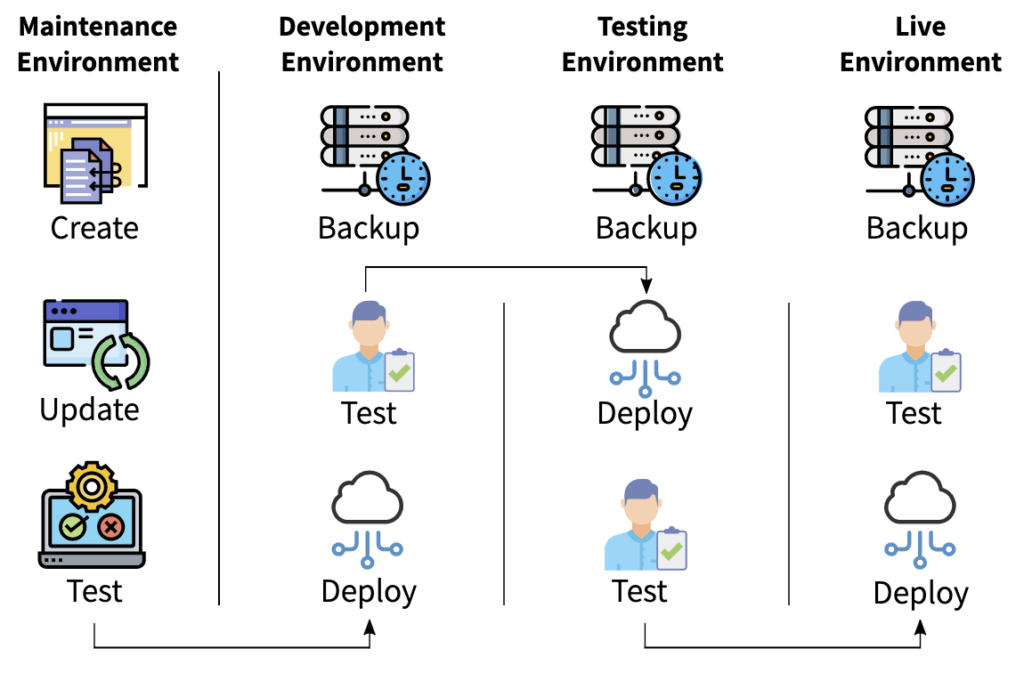 Gone are the days of clicking "Update" and hoping for the best. Let Webidextrous manage your maintenance. We'll give you back your time and peace of mind.
How to Uninstall the JetPack Plugin for WordPress
Removing the JetPack plugin for WordPress is simple:
Log into your WordPress Dashboard.
Go to the Plugins menu on the left-hand menu.
Find the JetPack plugin in the list and click "Deactivate" under the plugin name.
Now, click "Delete" underneath the deactivated plugin.
Deactivation is generally a good idea as it ensures that the plugin "cleans up after itself" before it's deleted.
That's it! Now, on to what to replace JetPack's functionality with.
How to Speed Up Any WordPress Website That Uses Jetpack
Our strategy was to "remove JetPack and replace it". We picked through each of this client's enabled Jetpack "apps", found a suitable replacement, and installed that instead. Once we finished, we disabled Jetpack. Forever. Because we don't want our pages to take forever to load. All told, it took a couple of seconds to remove JetPack and a bit over an hour to replace its features.
Here's what we removed, and what we replaced it with:
So, that's it. Now your web server issues fewer external web requests and your site loads faster. Enjoy!
The following two tabs change content below.
Rob Watson is the CEO of Webidextrous, a web consultant, and a developer. Beginning in 1996 as a self-taught web designer, he has created websites for everyone from small business owners to multi-national companies. He is the co-organizer of the West Orlando WordPress Meetup and a WordCamp speaker.
Latest posts by Rob Watson (see all)