As a real estate agent your life is very busy, to say the least. When you're not doing showings, you're closing deals and making sure your buyers or sellers are happy with the arrangement.
On top of that, when deals are done, you need more deals in the pipeline. This is an ongoing cycle of finding, selling, and finding again. You need to maintain a pool of prospects and keep your current deals progressing toward closure.
Your website can be a huge help to you in maintaining that pool of prospects, but you need to make it do more work for you than you're doing for it. Here are six tips for supercharging your web presence.
Put your contact information front-and-center. This mostly goes without saying, but you'd be surprised how many realtors either forget this or unknowingly make it hard to find or use their contact information. Use big font sizes to make your phone number, email address, and any other preferred or effective means of contacting you stand out. People should trip over your phone number as they browse your site.
Make your phone number "clickable". This merits its own tip bullet because of the increasing number of mobile users browsing from their phones and tablets. They've come to expect the convenience of tapping on a phone number on a website to call immediately. If you make them go through copy and paste routines just to call you, they may become frustrated. On tablets and even desktop computers, people are becoming accustomed to making "phone" calls through Google Hangouts or Skype.
Use video. Real estate buying and selling online is inherently a visually intensive process. Photos are great, but video really makes a splash. Virtual showings of the best properties in your inventory can help stack up buyers. But don't neglect to star in your own videos, and not just as the voice behind the camera. People shopping for properties online like to see a face connected with such a major purchase. Invest some money in good video camera equipment. Hire out videographers for properties that would merit the expenditure if they sell. Get really creative, HGTV style, and make your video as professional as possible to attract high-end buyers.
Maintain an active social media presence. I cannot emphasize enough the power of word-of-mouth for selling real estate. Social media is an effective way to get the properties you represent in front of more prospective buyers. But it's not enough to be a megaphone. Remember that social media is, well, a social medium that trades in social proof as a currency. That means you must follow people who are influential and relevant. It also means you must be an influential and relevant person on your chosen channel(s). Social media is a conversation, not a one-off event. Spend the time to build your "clout" or reputation as a reputable and highly sought-after deal-maker in your area.
Offer online scheduling. This requires a measure of discipline for many people with hectic showing schedules. Keep a strict digital calendar and then connect that calendar to your website so that buyers and sellers alike know when they can schedule your time. It sounds scary at first, but in the end you'll wonder why you haven't done it earlier. You don't have to show them exactly what's happening during the moments when you're unavailable. You just have to show that certain time slots are available.
Use a customer relationship management (CRM) suite. CRM suites are increasingly popular for maintaining and tracking a deal pipeline. Especially handy are the mobile apps they offer for checking the status of deals, looking up contact information, and a bunch of other things while you're out and about. My favorite is zoho.com, which has an open application programming interface (API) so that, whatever it doesn't offer, you can hire someone to build at a relatively cheap cost. Integrate whatever suite you use with your website's lead-gathering contact forms so that you're not having to manually copy and paste those leads from a form email into the CRM.
Following these six tips, you'll find that your online lead gathering will improve. The inbound links from your social media activity to your website will help boost your search engine rankings. You'll be more organized and able to look up information on your deal pipeline quickly. You'll be a real estate rock star!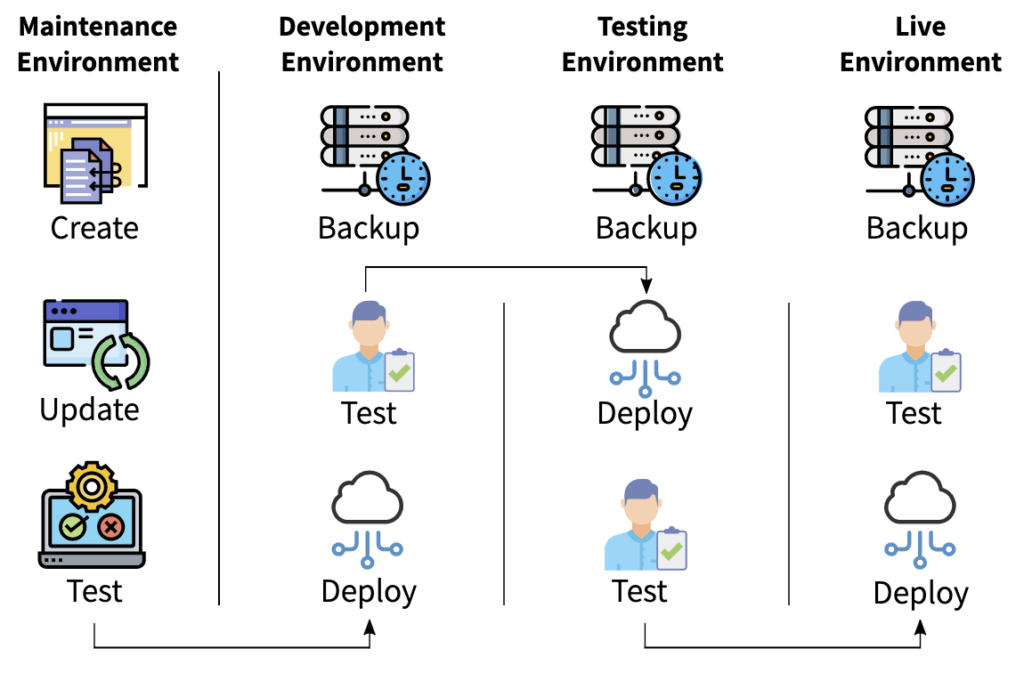 Gone are the days of clicking "Update" and hoping for the best. Let Webidextrous manage your maintenance. We'll give you back your time and peace of mind.
The following two tabs change content below.
Rob Watson is the CEO of Webidextrous, a web consultant, and a developer. Beginning in 1996 as a self-taught web designer, he has created websites for everyone from small business owners to multi-national companies. He is the co-organizer of the West Orlando WordPress Meetup and a WordCamp speaker.
Latest posts by Rob Watson (see all)