Hosting Add-On Plans
We highly recommend switching from your old hosting provider to a Hosting Add-On plan with Webidextrous. Why? We have the industry's fastest, most secure hosting setup. Not only is it high-performance and high-availability, but it's much easier to manage than all the other hosting platforms. In fact, you, as a Webidextrous customer and website owner, won't have to lift a finger to do any of the hosting setup or maintenance work. We can do all of that for you! 
Need more information to decide whether the prices you see below are worth the investment? Continue reading »
All Hosting Plans Include
Update sites knowing that all fixes and changes are able to be tested or staged independently from the main development code. If you have multiple developers, they can each have their own environments to work on that will "merge" into the development environment before being tested and going live.
Secure your website with an HTTPS certificate to comply with Google's latest security requirements for indexing and listing websites. Pantheon manages the HTTPS certificate for you at the click of a button.
Every night and every week your site can be backed up. That includes databases, files, and code. Restoring a site is a simple click.
Get ultra-fast page loads with Pantheon's global Content Delivery Network (CDN), powered by Fastly. The CDN positions content geographically closer to individual users, reducing network response times and making your site fast enough for Google's required page speeds.
Need to move a site to Pantheon quickly and easily? Site migrations are automated and free. We'll take care of all of that for you!
If you get stuck with anything at all, Webidextrous is here to help you. You also get access to Pantheon-level chat support from real WordPress experts.
Basic
Local Businesses and Small Blogs
Automatic Launch Check

Advanced Page Cache

One-Click Core Updates

*$50 per site/month if not hosting with Webidextrous
Performance
Goal-Oriented & Business-Driven Sites
Flexible Growth Pricing

99.9% Uptime

New Relic Monitoring

Solr Search

Page Speed & Conversion Optimization

Traffic Overage Protection

**$175-$1000 per site/month if not hosting with Webidextrous
Elite
Enterprise & High Traffic Sites
Launch Success Guarantee

99.95% Uptime SLA

Managed Resource Provisioning

Concierge Performance Service

24X7 On-Call Support
What Else Is Included?
Here is even more of a breakdown on what each plan includes. Click any of the tabs below for the technical details.
| | |
| --- | --- |
| Application Containers | 1 |
| PHP Workers | 4 |
| PHP Memory Limit | 256MB |
| Storage | 20GB |
| Custom Domain Limit (per site) | 5 |
| Free and Managed HTTPS | Included |
| New Relic | Not Included |
| Redis | Not Included |
| Solr | Not Included |
| Multi-Dev | Included if hosted with Webidextrous |
| | |
| --- | --- |
| Application Containers | 1 |
| PHP Workers | 8 |
| PHP Memory Limit | 256MB |
| Storage | 30GB |
| Custom Domain Limit (per site) | 15 |
| Free and Managed HTTPS | Included |
| New Relic | Included |
| Redis | Included |
| Solr | Included |
| Multi-Dev | Included if hosted with Webidextrous |
| | |
| --- | --- |
| Application Containers | 3 |
| PHP Workers | 24 |
| PHP Memory Limit | 512MB |
| Storage | 100GB |
| Custom Domain Limit (per site) | 35 |
| Free and Managed HTTPS | Included |
| New Relic | Included |
| Redis | Included |
| Solr | Included |
| Multi-Dev | Included if hosted with Webidextrous |
First Place: Pantheon
Compared to the others, Pantheon gave us everything. We have 2 dev sites we can work with, dev to production workflow, an intuitive GUI, a competitive price for production, and great performance when under pressure. So if you needed free Drupal hosting, Pantheon comes out on top with everything you need optimized for Drupal.
"Best Bang for No Bucks: A Comparison of Free Drupal Hosting Platforms" – July 2013
Why host with Webidextrous when I can pay a few dollars a month* with some other host?
Bottom Line: How much will it cost you in lost SEO ranking and revenue for a slow site? How much will you pay to recover from the inevitable security breach of your site that will occur with lesser-quality hosting companies? Wouldn't you rather pay a little more now to ensure your site is the fastest and the most secure it can be?
Clients who have budget constraints that require them to trade away security and performance for "just getting a site running" often go with cut-rate hosting companies such as GoDaddy, BlueHost, DreamHost, Wix, or SquareSpace. Several clients have switched to Webidextrous out of frustration when these popular hosting companies come up short.
Solid Performance
You'll get reliable up-time with ALL our hosting packages. That means your website is always available to customers. Most hosting companies lure you by offering nearly free hosting, but then they put you on a "shared" server. Having your website on a shared server is sort of like living in an apartment building with a single "party" phone line for everyone to communicate on at the same time. When something goes wrong with one customer's site, or if the "phone line" is compromised by a hacker or other disaster, it usually affects every "tenant" in some way. That means down-time, which means a significant amount of "missed" visitors and revenue over time.
Even with the Webidextrous Basic hosting package, you'll get a "single family home" plan. That means you get a dedicated container with a unique IP address. You also get better security than with shared hosting. When you add up the costs of lost revenues and hiring someone to re-do your website after it was altered or deleted by a hacker, you can consider the relatively small increase in investment as a form of insurance!
Security
All Webidextrous hosting packages include outstanding security. Containerized hosting is the first security measure all sites should implement. Determined hackers need more deterrence, which is why each plan offers Hypertext Transfer Protocol Secure (HTTPS) and Secure Sockets Layer (SSL). That's what enables encrypted credit card transactions online. Not only is the transaction protected by encryption, but also the database where customer data is stored. And that's with every hosting plan.
Simplicity
Managing your own hosting, even with another host's range of turn-key services, is tricky. Help with DNS glitches and site URL changes are among the most frequent requests we get from busy folks who just don't have the time to figure it all out, or even hassle with support. With a Webidextrous hosting management package, you will never have to deal with any of that ever again. We do it all for you!
*Cut-rate hosting companies offer super cheap plans that are usually only for the first month or the first renewal term. After that, you pay much more per month than the initial offer. Also, consider the time and opportunity cost of all the recovery work when (not if) your cut-rate host is compromised.
Most Secure: Pantheon
"Our CTO and founder David sits on the Drupal and Linux Security council and we are literally on the front line of defense for thousands of sites.  When a major event or vulnerability is uncovered we patch the issue at a platform level within hours in most cases.  Recently 2 very large issues emerged around glibc and DROWN attack.  None of our clients experienced any issues or reported anything from their security scans as we were able to apply the needed fix to all websites very near immediately.  Also, when considering our general architecture, there has never been a successful hack of a container-based infrastructure, ever."
Everybody offers secure hosting. How is this different?
As a Pantheon.io Partner, we can provide more and better security than any other hosting company in the industry.
Ask your host if they offer
Container-based infrastructure
One-click core updates
Denial of service protection
Automated security monitoring
Network intrusion protection
HTTPS with custom certificate
End-to-end encryption
Resource isolation
SAML/SSO/2FA
Role-based site access
Automated backup and retention
Secure code and database access
Secure integration to resources
Secure datacenters
PCI compliance
There are no compromises on website security with Webidextrous and Pantheon. We treat hosting as if no single aspect of the Web can ever be trusted. Our Web hosting solution includes:
Pantheon Employee Administrative Access
Pantheon grants access according to least privilege. Employees can interact with servers via a secure API without actual server access—when they do need it, SSH-key based authentication is used and activity is recorded in a central log.
Releasing Patches and Updates
Pantheon continually deploys new container host instances with the latest supported kernel, OS and packages. Containers are migrated to the updated instances automatically and the older systems are retired. Core CMS application updates and security patches are tested internally before being deployed to our customer base through our one-click update workflow.
Vulnerabilities and Incident Response
Security issues identified by Pantheon are immediately communicated to affected parties. Details of any significant disruption are posted status.getpantheon.com and tweeted by @pantheonstatus. We always conduct a post-incident review of security events to improve the effectiveness of our response to future incidents.
Datacenter Security
Pantheon's primary datacenter is managed by Rackspace. Rackspace provides 24/7 direct support access on any hardware issue. Access to data centers is granted though both keycard and biometric scanning protocols and protected by round-theclock surveillance monitoring. Every Rackspace data center employee undergoes thorough background security checks before hiring.
Stay secure and compliant on Pantheon. We allow you to meet standards for:
Payment Card Industry (PCI) Data Security
Family Educational Rights and Privacy Act (FERPA)
SOC 2 Type II and SOC 3 and ISO 27001 US-EU Safe Harbor
Redundancy
Many of Pantheon's core components are fully redundant and highly available with no single point of failure: the internal Pantheon API, the edge routing layer, DNS, and files directory storage. Where redundancy is not feasible, we maintain automated tools to facilitate recovery. Pantheon's internal services are designed to tolerate process and server-level failure. We maintain a minimal server footprint in multiple datacenters to facilitate restoration in the event of a datacenter-level failure. When possible, we use redundant providers for upstream services like DNS.
Customer Content Durability
Pantheon uses industry-standard practices for on-disk storage, including writing to multiple physical disks with hardware-level RAID. For further protection, customers can make automated backups on the platform. Backups have over 99.99% durability and availability, are stored in multiple datacenters, and are encrypted at-rest.
Backups
Backups can be automated or triggered manually. Each backup, containing all site-related customer data, is shipped to Amazon S3 as a compressed archive. Backups are encrypted during transfer and at-rest with 256-bit Advanced Encryption Standard ciphers, storing private keys and encrypted backup data on separate servers. Users have the ability to test restoration via the dashboard for any site for any manual or scheduled backup. They also have the ability to restore from a backup to a new site, on Pantheon or elsewhere.
How is a container better than a shared, virtual, or dedicated server?
Pantheon is built on containers, making it easy to scale and deploy infrastructure-wide fixes. Embraced by companies like Google App Engine and Heroku, they allow lightweight partitioning of the OS into isolated spaces where applications can safely run. Our containers provide:
Resource Isolation
Pantheon uses control groups, a kernel-level facility for resource isolation for memory, disk, cpu, and other server resources. This means that process and memory-level isolation are effective for all customer processes, from PHP to MySQL.
Automated Site Monitoring
Pantheon runs over a million checks a day to proactively monitor network, server, and application resources. Uptime data is always available at status.getpantheon.com.
One-Click Core Updates
Update Drupal and WordPress core with a single click. Pantheon's built-in dev, test, and live environments allow developers to push updates to production safely and quickly.
Network Intrusion Protection
Pantheon's intrusion prevention system (IPS) adds a layer of protection, using a x.509-based public key infrastructure to add authentication and encryption to the Rackspace network. IPS runs for any service with user-chosen passwords— dashboard, SFTP, Git, Drush—detecting failed logins and preventing unauthorized host access.
Denial of Service Protection
Pantheon works with Rackspace and CloudFlare to provide management of denial-of-service attacks, filtering ongoing attacks and isolating traffic streams through Riverbed load balancers for each site and environment.
SAML and Two-Factor Authentication
Pantheon supports SAML integration, enabling additional security features like two-factor authentication and single sign-on. Customers can also enforce settings like minimum password strengths or authentication audit logs.
Role-Based Access to Site Resources
Pantheon's Change Management feature allows site owners to manage organization-wide settings and selectively grant or deny developer access to deploy to production.
Anti-Malware
Pantheon prevents malware installation by running a Linux OS. We use only established vendor repositories for software, verify software package signatures, perform cryptographic validation of platform code, and maintain auditable change management. ClamAV antivirus protection ensures our system's integrity and to prevent malware from spreading through customer websites.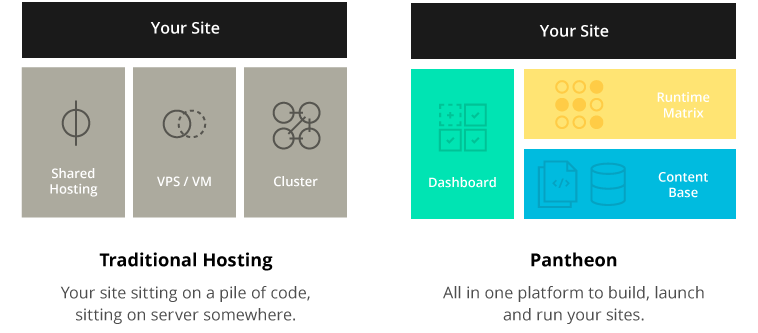 Information we need to get started…
How Our Hosting Helps You
We focus on your requirements, not infrastructure

Improved workflow and productivity

Quick site startup, in seconds, at any time

Confidence in ability to scale for traffic spikes
Understanding and Implementing Website Security, Part 1: You Are A Target
The Web is a Big Thing. More money ($190B) is spent on designing, building and maintaining websites than on all of digital advertising ($154B) combined. In retail, online spending crossed over $300 Billion in the US alone in 2015. On a human level, we increasingly rely on this medium to share stories, stay in touch with friends and loved ones, plan activities, pay bills and more. Read more »
'I think you can say—with an absolute straight face—that the containerization of software applications in the age of the cloud will save more CO2 emissions than electric cars.'
— Zack Rosen, CEO & Co-Founder at Pantheon
Learn more about what developers can expect on our hosting platform.
Cloud Development with Webidextrous