There's a good chance you've heard the term SEO, or Search Engine Optimization before. As digital marketing continues to evolve and grow, so does the competition for website visibility. If potential customers can't find you on the web, you're missing out on a massive stream of leads and customers. There are many reasons you should be using tactics that generate SEO results, but we've narrowed it down to five essentials.
1. Website traffic
Besides web design, constant and consistent traffic is the most important focus of a website. Up to 64% of website traffic across the web comes from organic search, so if you're not focusing on ways to improve your SEO, you're less likely to get found. There is so much noise on the internet that it's easy for customers to get lost, distracted, and overwhelmed. To help users find what they are looking for, search engines use intelligent algorithms called crawlers that identify key phrases, then file away what users are organically searching. If crawlers can't locate your site, it means that search engines like Google probably won't be displaying it in the top search results. To put it plainly, if your target audience can't find your site, then they won't be able to sign up for your newsletter, see your sales, or purchase your products.
2. Competitive edge
SEO has been around for a while and most businesses are aware of how important it is. Since your competitors are probably already using SEO, that makes it even more important to have an effective SEO strategy of your own. Luckily, you can inspect and analyze your competitor's sites to determine what gets them ranked higher on search results. Using online tools like SEMrush and AHrefs is a great way to unearth potential backlink opportunities based on what your competitors have already achieved.
If you're focusing on local SEO, the playing field is a lot smaller. Local search is becoming more and more crucial, and search results are prioritizing local results at the top of the search engine results page (or SERP). Finding your niche can position yourself above competitors that are targeting a broader scale. The time is now. The longer you wait, the more other businesses will have a greater chance of cementing their positions and keywords.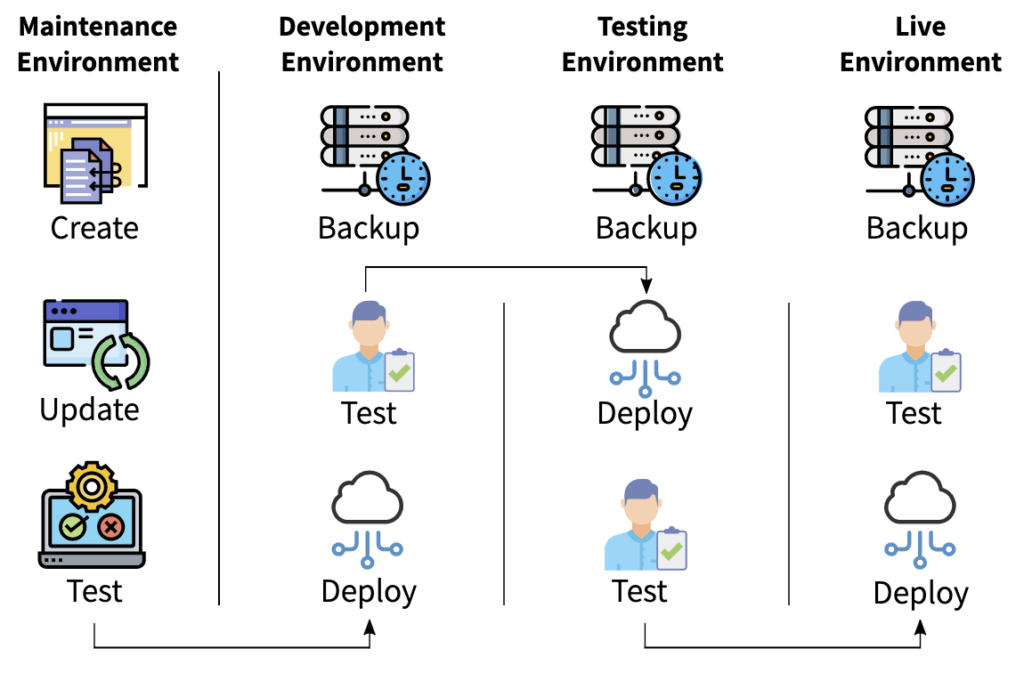 Gone are the days of clicking "Update" and hoping for the best. Let Webidextrous manage your maintenance. We'll give you back your time and peace of mind.
3. Better rankings
It's rare that people click past page two in search results. In fact, over 70% of clicks happen on the first search results page of Google. This means most users find what they are looking for on the first page, which is why you need to use SEO to rank organically. Search engine rankings do shift occasionally but when done correctly, SEO is a long-term game that can position your site on page one for months or years. To quickly rise in local search results, it's important to keep your citation information updated and to use locally-focused keywords like "[your company's industry] near me".
4. Mobile
Since a majority of users are now on their smartphones, it's very important that your website is mobile responsive. Responsive web design keeps your HTML and URL consistent across web and mobile devices. Google favors websites that are mobile responsive, so having a mobile responsive site will help you rank higher while engaging mobile users to stick around and convert.
5. Inbound marketing leads
SEO and inbound marketing work great together. While some inbound strategies require a lot of attention and maintenance, once SEO is set up, conversions can be self-sufficient and automated. It's an affordable way of bringing in more business by providing value to customers. Effective SEO brings customers to you, so there's no reason not to do it. Be cognizant of your bounce rates and update your site to maximize time on page and create an engaging customer acquisition funnel. If your site offers a poor user experience, visitors won't only be turning away, you won't rank as well, either.
SEO for ROI
SEO can increase the success of your website and business overall. To be organically found in search is one of the best ways to find new customers when they are looking for particular products and services. While SEO is becoming more and more important, maintaining rankings and working to stay above competitors in the search results is a tedious process. If you don't have time to stay updated on Google's algorithm changes, clean up metadata, execute keyword research and tackle link building, consider hiring someone who specializes in this.
The following two tabs change content below.
Matt Lee is an accomplished marketing consultant and blogger. He is the founder of
Lead Generation Experts
, a search engine optimization company helping building materials manufacturers and others in the construction space improve lead generation. As a consultant with 10+ years of ownership and sales experience, Matt also helps other business owners learn how to get paid the maximum
value for your company
when looking to sell.